Empowering Inclusivity: Personalized subtitles for Diverse Audiences. Seamless Real-time Transcripts and Translations. Perfect for Any Event, Any Size, Anywhere.
With XRAI Stream, you can subtitle all your events, breakout sessions and keynotes with a very easy plug & play solution. The subtitles will be broadcasted to anyone who wants to view them (AR glasses, mobile, laptop, present, or attending your event online) in their own preferred language. Even better, we can save the transcripts for your post-production and if desired we can provide content summaries of all your sessions and conference as a whole.

Is it time for your event content access and distribution to ascend to greater heights?
XRAI Stream™ provides real-time captioning and translation for live events, streamed to multiple devices at once.
Simply connect XRAI Stream (separate app provided by us) to your live audio source (such as a microphone or mixing board), sit back, and effortlessly stream real-time subtitles over your existing WiFi network.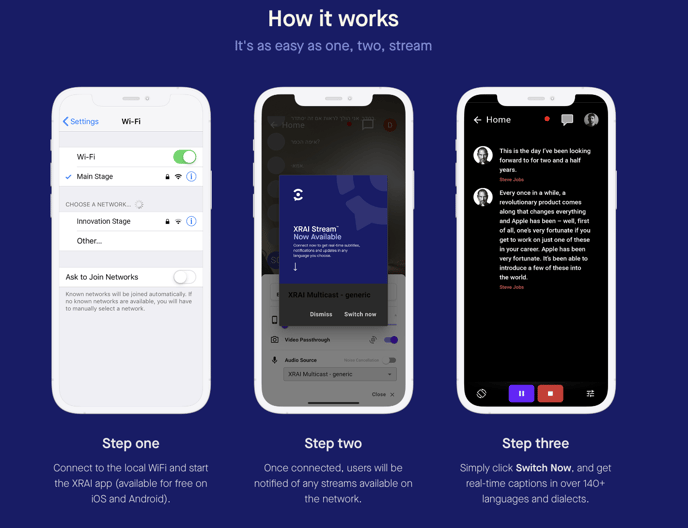 Continue reading below and share your venue information with us by booking time to speak with us!
There are several steps we'd like to share with you to ensure your venue or event is set up for success and have your attendees leaving talking about how inclusive your event/venue was and spread the word.
Step One: Setting up XRAI Stream
If your event is happening at a venue equipped with an audio system (microphones and speakers), it will be very easy to connect XRAI Glass with this AV system in order to get the most accurate subtitles. If there is no Audio System (AV) already in place, we can discuss alternative options.

You'll need (per room):
A reliable (bandwidth requirements) Internet connection (Wifi recommended)
A smart device (tablet or smartphone) with XRAI Glass installed on it, which will be dedicated for the live subtitles during the event (XRAI Serber host device)
An UCB hub to convert the audio from the mixer to the 'XRAI Server host device'
USB Audio Interface to for Recording, Streaming and Podcasting with XLR, Line and DI Inputs.

XRAI Glass recommends either of these two below to plug into your AV system: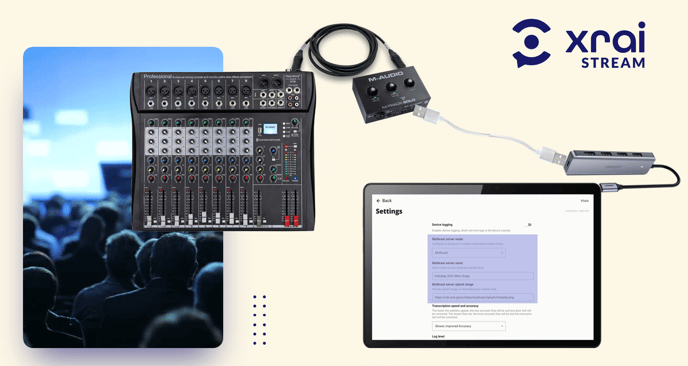 Now for your event, we're going to connect XRAI Glass with the AV system to get a clear sound from the speaker(s) on stage and have the most accurate subtitles/translations possible!

We are more than happy to connect directly with your event production / AV specialists to make sure this is all set up and working well for your event/venue.
Step Two: Customizing the Event/Venue Name for the Stream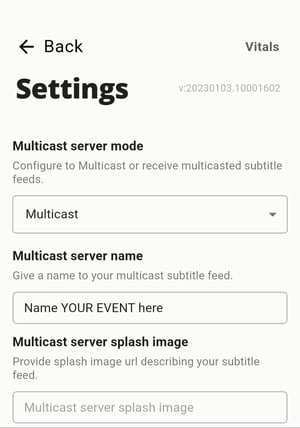 In the upper right corner in the Stream Server app, click on the profile icon.
Go to Settings
Scroll down to Multicast Server Mode

Ensure this is set to Multicast

Multicast server name

You can name your event/session

Multicast server splash image

Customize your own image to go with your event name

Are you Ready for your Event/Venue to provide real-time subtitles and audio translations?

Depending on your needs, we can provide the full package including on the ground support, signage design, setup and breakdown, post event transcripts and summaries, and much more. Of course you can also decide to do it yourself and all we provide is our captioning software. We're more than happy to help you find the right solution for your event.
Feel free to request a quote or schedule a time to talk with us. We will provide you the quote and answer any questions once you schedule a time to speak with us.
Please email us at hello@xrai.glass if you have trouble finding a time that works best for you and we can find a time that can accommodate your availability.

Beyond audio, it should facilitate real-time subtitles and audio translation​.