Below is a quick walkthrough to help you set up your XRAI Glass app before you start subtitling
There's a few extra steps to get you up and running!
Check to ensure your phone is compatible with XRAI App for a better experience.
Connect to the internet

Make sure your phone is connected to the internet or a hotspot before launching the app for the first time. While the app does offer offline subtitling, it's recommend you stay connected whilst in-use for the best performance.

Download XRAI Glass app

Google Play app

If you are having trouble locating it, ensure that your Android device is running on at least Android 11.

Apple App Store

If you are having trouble locating it, ensure that your iOS device is running on at least 13.7.
Connect your email account from any of the following platforms

Google, LinkedIn, Microsoft Office, Apple
You'll need an account from any of the platforms above to login to the app for the first time.
5. Open up the XRAI App
6. We want to get to know you
We are excited for you to get started on XRAI, but first we have some steps that needs to be completed before subtitling.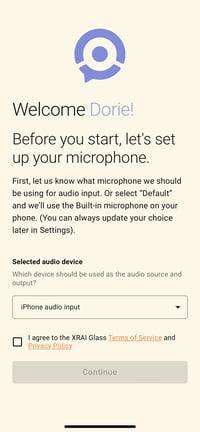 Be sure to enter in your audio input source which can be any of the following:


Built-in phone (Imagine you having a 1:1 conversation where you are speaking directly into the phone)
Built-in speaker phone (Media, dining or chatting with a group at once)
Default (Your phone itself will determine the best audio setting for you)
Wireless Bluetooth audio such as Razor Seiren BT (Set up your Razor Seiren BT here)
Agree to our Terms and Conditions and Privacy Policy.
7. Language Preferences
For you to get the most out of the XRAI app, we want to ensure we have the correct languages for you in how you will use the app.

8. Current Location
Where are you currently is how we will be able to display your real time subtitles in the most efficient way. You will be able to update and change the region if you are traveling to a further region as needed.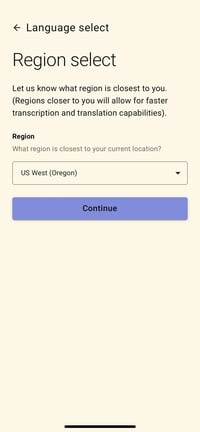 9. PermissionsFor our app to work as intended, we do need for you to allow XRAI to access your audio and device information.

10. Last, but not least...
You did it! Now it is time for Life.Subtitled.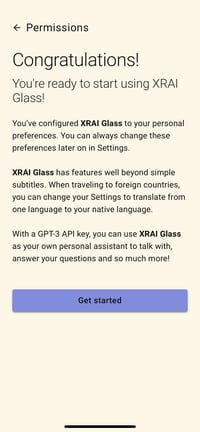 11. Once you've signed in, you'll notice that you're only able to select subtitles in the XRAI Glass app. At the moment, AR subtitles are only available for Android users using XRAI Glass's supported glasses that can be found here.
12. Learn all about what you can do with your XRAI Glass app here.